Koala Bar – Not quite the land down under.
City Weekend (Shanghai).
23/03/2006
Bar review of Koala Bar on Shanghai's Huai Hai Xilu.
A kitschy neon koala sign, framed photos of Australia, a didgeridoo and a couple of boomerangs on the wall does not necessarily make an Australian bar. Sure the menu has meat pies but who gives a XXXX when there is no VB. Make no mistake, this is a local bar with Australiana tacked on. As such it is not a bad place. Friendly staff and relaxed atmosphere make it a good meeting spot. A free pool table and big screen sports add to the ambience. Cocktails range from Y30-50 and there is the ubiquitous tapped Tiger. Tuesday nights sees draught beer, gin, vodka and rum at Y20. As fair dinkum Australian as a panda wearing a cork hat but as a local bar it's bonza enough.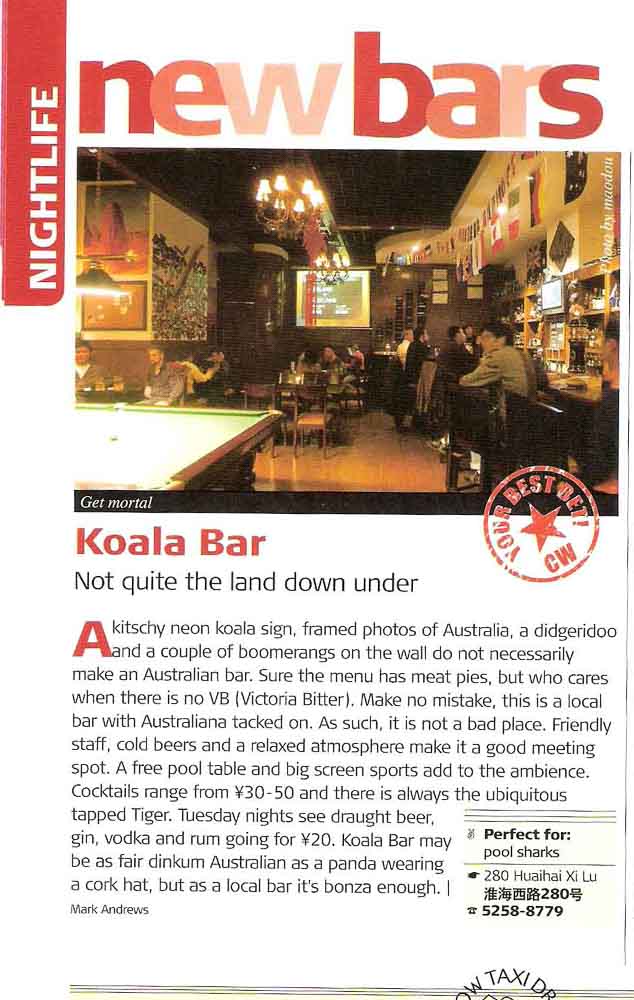 Mark Andrews has written about everything from Japanese houses to heli hikes on New Zealand glaciers, test drives of Chinese cars to bar and restaurant reviews. He currently specialises in travel articles and reviews of Chinese cars plus articles about the Chinese auto industry.
Let's Get Started
Get in touch with Mark
All articles and photographs displayed on this web site are available for purchase with rights varying according to what has previously been sold. For most published articled this means first serial rights for the country that the publication appears in.
If you wish to speak to me about anything on this website or to discuss commissioning any work I can be contacted by:
Mobile phone
0086 13564588224
This is a Chinese mobile number. Please remember that China's time zone is eight hours ahead of GMT.
Email Click to email Mark