Piccone – Hidden Rock Gem.
City Weekend (Shanghai). 07/06/2007
Bar review of Piccone a no longer open live music venue in Shanghai's Former French Concession.
Billed as a music pub, a band in fact only plays on Wednesdays, Fridays and Saturdays and seems to start late (10.30). When the regular band is not belting out a mixture of rock, jazz and blues there is a large screen showing various concerts with a not overbearing soundtrack. Strangely for a Puxi bar it is situated on the 2nd floor, in a difficult to find location (the entrance is actually on Dongping Road). Seating is split between tables and chairs, which look more suited to a restaurant, and a few sofa areas surrounded by white padded walls. Draft Asahi is on tap for Y30 and Wednesday is Ladies Night with free beer, wine, gin and vodka. This place is certainly different from the run of the mill Shanghai bars. What it is really lacking is people to give it a vibe.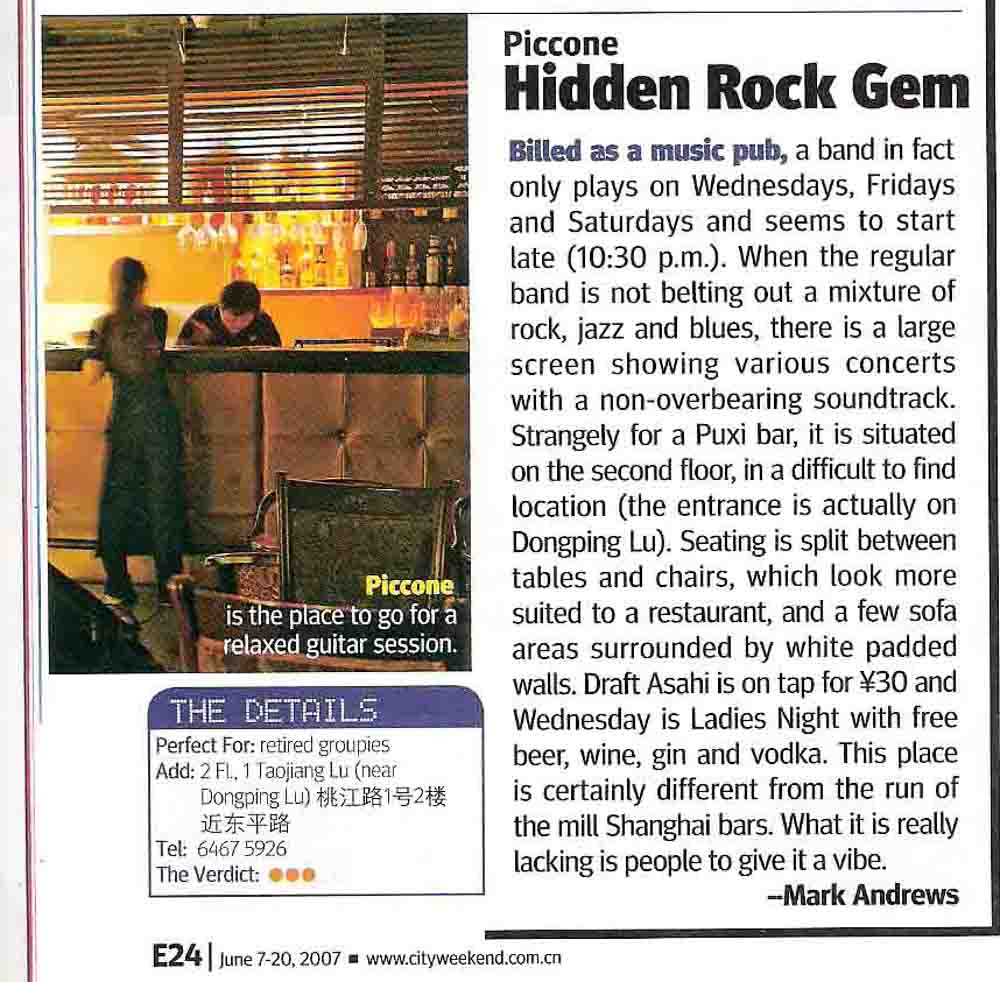 Mark Andrews has written about everything from Japanese houses to heli hikes on New Zealand glaciers, test drives of Chinese cars to bar and restaurant reviews. He currently specialises in travel articles and reviews of Chinese cars plus articles about the Chinese auto industry.
Let's Get Started
Get in touch with Mark
All articles and photographs displayed on this web site are available for purchase with rights varying according to what has previously been sold. For most published articled this means first serial rights for the country that the publication appears in.
If you wish to speak to me about anything on this website or to discuss commissioning any work I can be contacted by:
Mobile phone
0086 13564588224
This is a Chinese mobile number. Please remember that China's time zone is eight hours ahead of GMT.
Email Click to email Mark