City Weekend (Shanghai). 24/01/2008
Bar review of Japanese style sochu bar Mokkos in Shanghai.
Hidden behind a heavy wooden door down a lane this bar is a treasure trove of sochu. Whilst sake is a brewed this Japanese alcohol is distilled. There are basically two types: korui which is distilled several times and otsurui (or honkaku) which is distilled just once. Behind the long wooden bar shelves are filled mainly with bottles of otsurui in all shapes and sizes. The menu, at the moment only in Japanese and Chinese, lists the base ingredient: rice, sweet potato, wheat. Otsurui (Y25-55) is best drunk neat or on the rocks. There are also a number of chuhai (Y25) where the sochu is mixed with flavours such as lemon or grapefruit juice, or a Japanese plum (ume). Minimalist grey walls, fluted red light shades and wooden panelling mix with a small tatami mat seating area and a few chairs and tables. Evocative of a friendly local bar in Japan, and run by a native of Kyushu, the spiritual home of sochu.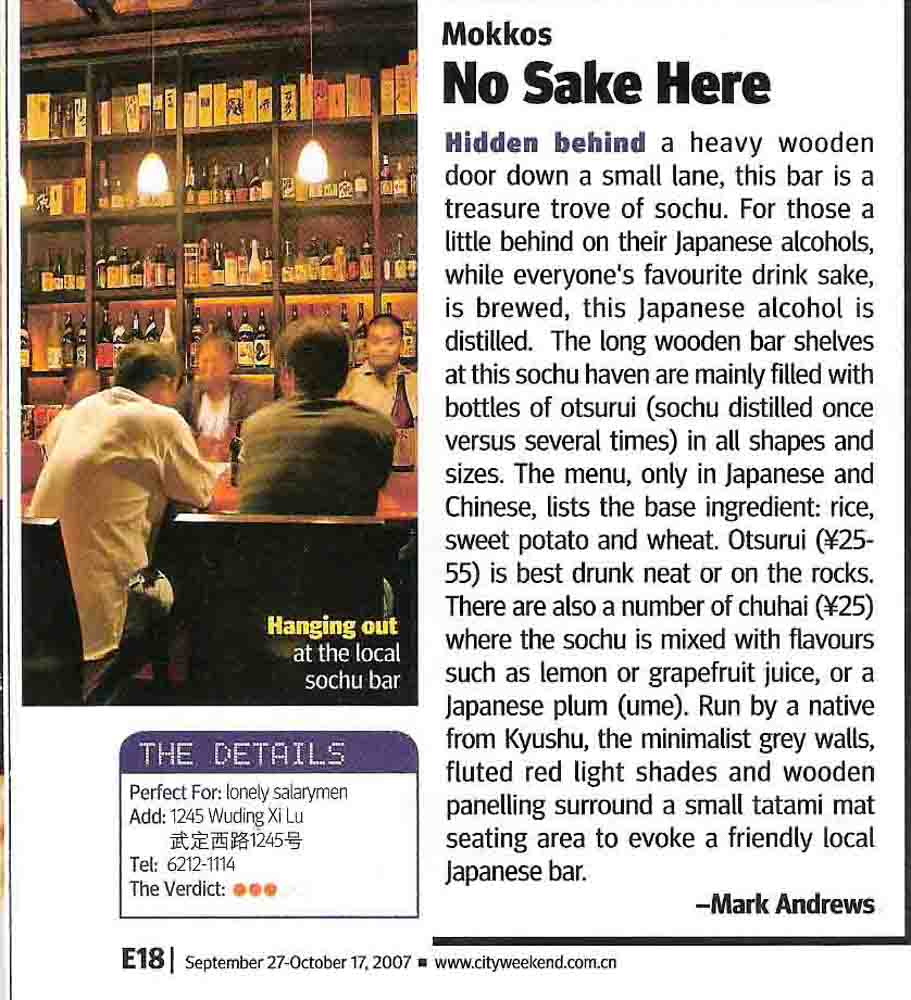 Mark Andrews has written about everything from Japanese houses to heli hikes on New Zealand glaciers, test drives of Chinese cars to bar and restaurant reviews. He currently specialises in travel articles and reviews of Chinese cars plus articles about the Chinese auto industry.
Let's Get Started
Get in touch with Mark
All articles and photographs displayed on this web site are available for purchase with rights varying according to what has previously been sold. For most published articled this means first serial rights for the country that the publication appears in.
If you wish to speak to me about anything on this website or to discuss commissioning any work I can be contacted by:
Mobile phone
0086 13564588224
This is a Chinese mobile number. Please remember that China's time zone is eight hours ahead of GMT.
Email Click to email Mark