The saviour of Shanxi Road.
City Weekend (Shanghai). 09/02/2006
Restaurant review of Savor which was located on the north part of Shaanxi Road.
Savor colourful dishes are fit to rival anything served up on the Bund yet you won't have to take out a sizeable bank loan to eat here. For Y98 the dinner set of appetizer or soup, main, dessert, and tea or coffee is a bargain. Presentation and taste take precedence over size. Highly recommended are the kebab, and also the salmon and sole fillet. Although the dessert menu at four items is limited, all are great. The chocolate pudding, a sponge filled with hot syrupy chocolate, is divine. A la carte mains Y68-88. Lunch sets of soup, main, tea or coffee are in the Y30 region.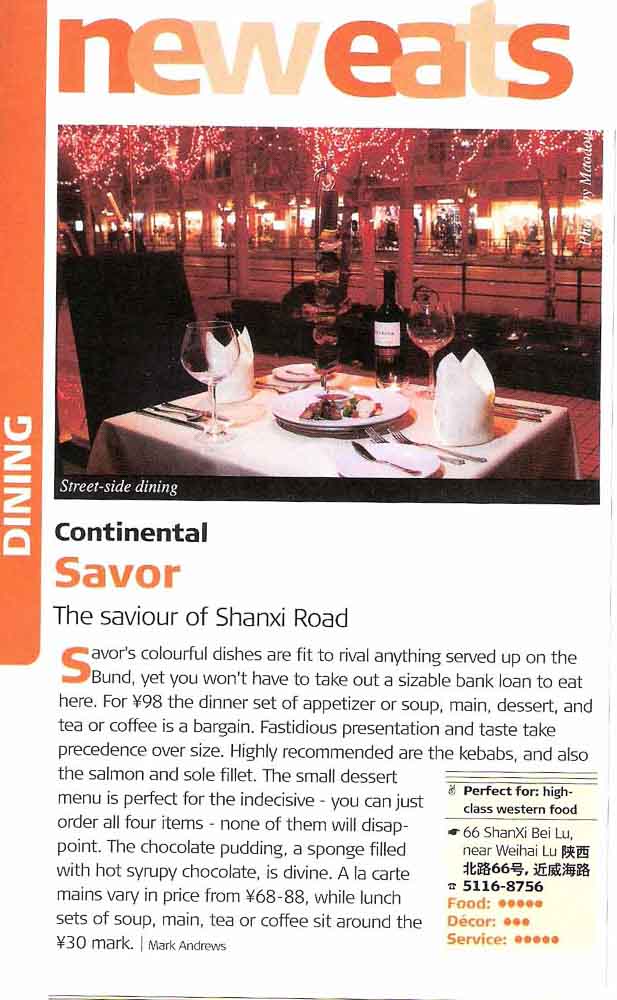 Mark Andrews has written about everything from Japanese houses to heli hikes on New Zealand glaciers, test drives of Chinese cars to bar and restaurant reviews. He currently specialises in travel articles and reviews of Chinese cars plus articles about the Chinese auto industry.
Let's Get Started
Get in touch with Mark
All articles and photographs displayed on this web site are available for purchase with rights varying according to what has previously been sold. For most published articled this means first serial rights for the country that the publication appears in.
If you wish to speak to me about anything on this website or to discuss commissioning any work I can be contacted by:
Mobile phone
0086 13564588224
This is a Chinese mobile number. Please remember that China's time zone is eight hours ahead of GMT.
Email Click to email Mark