English Content Driving Success with IPOs of Chinese EV Startups
Last week Li Auto made $1.1 billion with its IPO on the NASDAQ exchange. This is quite a feat for a company that only started delivering cars in December 2019 and has no English language website. Li Auto is one of a raft of Chinese EV startups once measured in their hundreds that are now with the twin onslaughts of Tesla and a currently stalled EV market in China facing a day of reckoning. This year has already claimed Byton one of the better internationally known startups. IPOs are now an essential method to stay in the game for the remainder. To successfully play the IPO game overseas you need to let the world know who you are and the key driver to that is English language content.
In journalism there are the 5 Ws – who, what, when, where and why. This is about telling a story and giving the information needed. Strangely enough it is the same kind of information potential investors in stocks also need when deciding where to put their money. Content is the driver to answering these questions and securing further funding.
For Li Auto the 'who' is that they were founded in 2015 as Beijing CHJ Information Technology Company and have previously been known as Leading Ideal, as well as Li Xiang, before becoming Li Auto.
The 'what' is that they are in Chinese terms a new energy vehicle (NEV) producing company. The Li One is an electric SUV which has a range extending gasoline (petrol) engine so making it a plug-in hybrid electric vehicle using series hybrid technology where the engine acts only as an electricity generator.
With the 'when' it depends on what the actual story is, with Li Auto that is that is has just had its IPO last week. Similarly the 'where' can be dependent on the story, in this case it might be New York due to the listing or it might be the fact that the company is from China and has its factory in Changzhou, Jiangsu Province.
The 'why' is the trickiest part. It is emotive and especially when you are speaking to investors you are trying to get them to take action. How to achieve this? This is done by soft power, putting a human face on the corporation by telling the stories of people involved. Methods include interviews with designers or key people, walk arounds of the facilities and even interviews with customers.
Li Auto is the second Chinese EV startup to IPO in the US – the first being NIO in 2018. Xpeng are rumoured to be looking at a US IPO and WM Motors (Weltmeister) have been linked to a Shanghai STAR exchange listing plan. A glance at NIO's website shows that despite not selling any cars outside China it has a fully function English language site complete with blog, news and videos. With content like that it is certainly helping drive NIO's share price which has quadrupled since the beginning of 2020.
The promise for investors is huge. China is the world's largest electric vehicle market with sales of 1.24 million EV cars last year. However last year sales for the first time decreased and in the first half of 2020 have declined by 39.4% compared with the same period in 2019. And then there is Tesla which opened a factory in Shanghai to produce the Model 3 in late 2019. After sales began in early January Tesla has dominated the market as shown in this chart from CleanTechnica. It shows the Model 3 outsold the best-selling model from a Chinese startup, the NIO ES6, by four to one.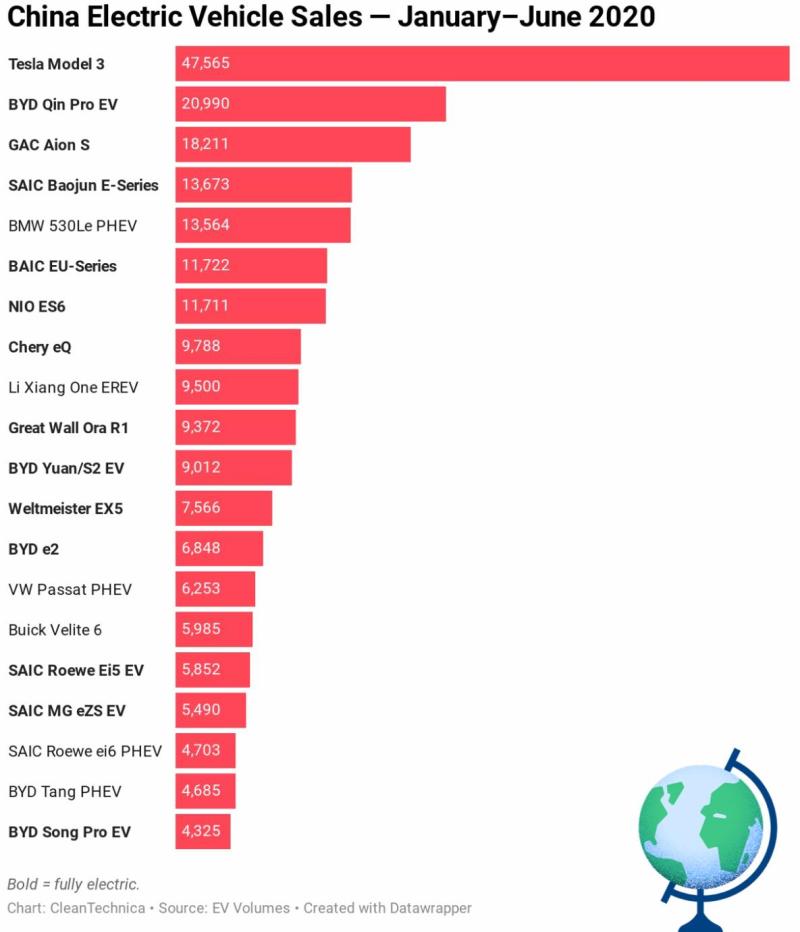 Last year only eleven Chinese NEV startups managed to raise funds. The IPO route offers those remaining, time to stay in the game until sales begin to recover. While on the surface Tesla may seem to be the death knell to many of these companies it also offers a glimmer of hope as shown in the following chart from Automobility.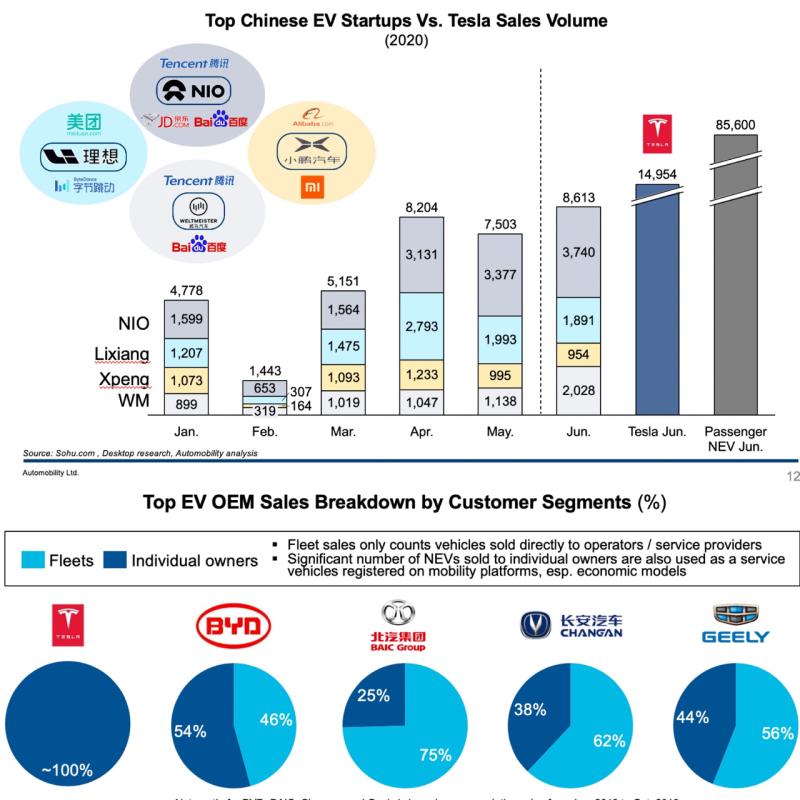 Up to now most of the established EV companies such as BYD, SAIC and BAIC were mainly selling to fleet users. In fact many of the private sales registered in the pie charts are likely to be investments by private individuals either who work themselves as Didi (China's Uber equivalent) drivers or for rental to drivers as an investment. Tesla however shows that a true market among individuals is now finally emerging. For companies like NIO, Li Auto, Xpeng and Weltmeister they need to hope they can stay in the game long enough to benefit from the rising tide. Content to communicate the company's ethos coupled with a successful IPO is going to help drive that success.
With thirteen years experience writing about cars in China for international publications such as Autocar, Auto Express, the South China Morning Post, Sydney Morning Herald and The National along with content for OEMs such as Geely and Ford I can help communicate your company's message to a world clamouring to invest in Chinese EVs. Let's do that content to help your successful IPO.
Mark Andrews has written about everything from Japanese houses to heli hikes on New Zealand glaciers, test drives of Chinese cars to bar and restaurant reviews. He currently specialises in travel articles and reviews of Chinese cars plus articles about the Chinese auto industry.