China's high speed rail crash – What really happened?
This article was originally on the Rail.co website of Rail Engineer but neither the website or article seems to exist any longer online and so below is my original unedited version.
It all seemed to be going so well, on July 1st the Beijing to Shanghai route – the flagship project of China's high speed railway programme – started operations on the official 90th anniversary of the Chinese Communist Party (CCP). The day before Premier Wen Jiabao had opened the line to much fanfare.
Then the glitches started. A string of power outages plagued the first few weeks and often left passengers stranded for hours on end whilst red-faced officials blamed thunderstorms – July being well into China's monsoon season.
On 23rd July, the real 90th CCP anniversary, disaster struck on one of the older first generation high speed rail lines, designed for maximum speeds of 250-280kph. At 8.34 in the evening the D301 service from Beijing South to Fuzhou ran into the back of the D3115 service from Hangzhou to Fuzhou South in the Lucheng District of Wenzhou, a prosperous city in Zhejiang Province, southern China.
The D3115 service with 1,072 passengers was operated by a sixteen carriage CRH1B set no 046, which is based on the Swedish designed Bombardier Regina family. D301 on the other hand was a sleeper service with 558 on board operated by a CRH2E set no 139, also of sixteen carriages, but based on the Japanese E2-1000 shinkansen.
The first three carriages of D301 careered off the elevated tracks and carriage four was left dangling near vertical to the ground. Meanwhile the rear two carriages of D3115 derailed with carriage sixteen sustaining heavy damage. Official figures put casualties at 40 dead and around 210 needing hospital treatment for injuries.
Initial reports claimed that D3115 stalled after a lightening strike. Also in the first few days the Railway Ministry mysteriously changed the crash time to 20.27. However the first news of the incident possibly came at 20.38 from a passenger's tweet on Weibo, a Chinese Twitter clone.
"Our train stopped for more than 20 minutes" stated another passenger, Ms Sun, on D3115. "After the train started off again I felt a heavy pounding and then the power went off."
What then began was a catalogue of mishandling of the rescue and clear up operations. The Railway Ministry largely gave up on looking for survivors and recovering bodies by 2am and wanted to concentrate on clearing the tracks to resume services. Local police chief Shao Yerong insisted that the carriages were not moved. This ultimately led to the rescue of two more survivors including two year old Xiang Weiyi at 17.20 on the 24th.
When the Railway Ministry gained the upper hand instead of using cranes to move the toppled carriages of D301 they rolled them using earth excavators. Furthermore they buried the lead carriage on site claiming they needed to get it out of the way to bring in equipment.
Japanese shinkansen expert Satoru Sone commented "once rescue efforts are over, it's still important not to move about the carriages as far as possible… Disassembling the trains and burying them — that's just unbelievable,"
Chinese experts were also critical. Liu Tiemin head of the China Academy of Safety Science & Technology lambasted the rescue operation ""Any search and rescue should have a shrewd plan. When to stop, why to stop, decisions like that should be made very carefully."
About the handling of wreckage Liu continued "Evidence is crucial in any investigation. After an accident, we need to understand how one train hit the other, which parts collided, and how strong the force was. The only way to answer all these questions is to study the evidence."
Train services at the site resumed on the 25th but the crash furore was far from over. The day after the crash party mouthpieces, such as the Renmin Daily and Guangmin Daily, dwelt with a promotion ceremony of the Central Military Commission on their front pages leaving it to the city dailies to cover the crash. On the 26th the Central Propaganda Department issued reporting directives banning investigations into the accident's causes or any comment or reflection on the incident.
In a turning point for Chinese media they refused to be reeled in. Even normally pliant state broadcaster CCTV entered the fray. Bai Yansong in his popular show News 1+1 stated that having "advanced technology" did not equate to being "up to standard" if there is a lack of support and thinking behind such systems.
As yet there is still no official news of D3115's driver. He was allegedly last sighted by a passenger in carriage twelve speaking to his boss by phone and then crying on the floor. However, a mysterious Weibo tweet on the 26th claimed to have been from someone who had spoken to him and stated that he was being held and allowed no contact with the outside world.
Official news agency Xinhua on the 28th blamed the crash on a signalling failure caused by a design fault; a lightening strike stopped a signal changing from green to red.
It seems however the true cause lies with the control centres and that both trains had been considerably delayed. D301 should actually have been in front of D3115. The accident occurred on a stretch of track between Yongjia and Wenzhou South stations at about 20.34. Had both train been operating normally D301 would have arrived at Wenzhou South at 19.42 and D3115 at 19.57.
Instead D3115 around that time was sitting at Yongjia station. Whilst there, D301 drew up alongside the CRH1 train and stopped. D301 was unscheduled to stop at Yongjia and should have cleared the station more than ten minutes before D3115 arrived. At about 20.15 D3115 set off at a speed of around 20km/h. Then at 20.24 D301 departed at 100km/h onto the same stretch of track.
Signalling technology used on the line is CTCS-2 (Chinese Train Control System) which is equivalent to European Train Control System Level 1. Despite this and supposed live monitoring by the control centre no one stopped train D301 until the driver applied the emergency brake.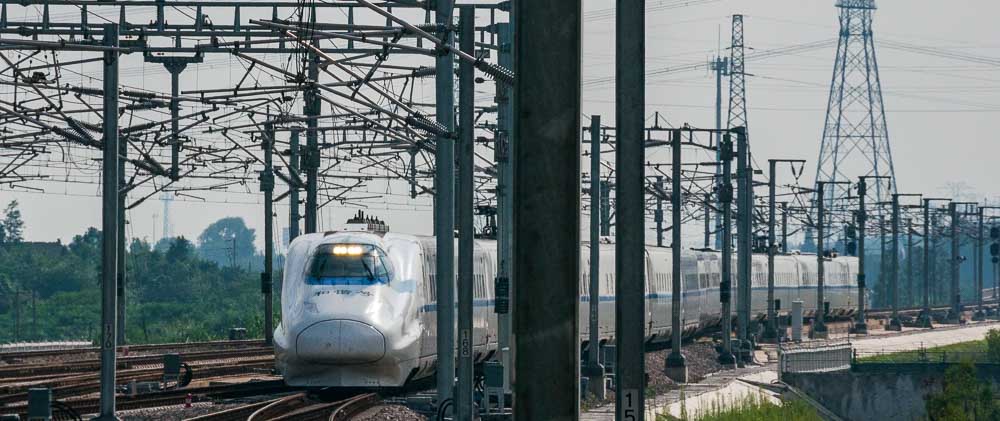 Mark Andrews has written about everything from Japanese houses to heli hikes on New Zealand glaciers, test drives of Chinese cars to bar and restaurant reviews. He currently specialises in travel articles and reviews of Chinese cars plus articles about the Chinese auto industry.
Let's Get Started
Get in touch with Mark
All articles and photographs displayed on this web site are available for purchase with rights varying according to what has previously been sold. For most published articled this means first serial rights for the country that the publication appears in.
If you wish to speak to me about anything on this website or to discuss commissioning any work I can be contacted by:
Mobile phone
0086 13564588224
This is a Chinese mobile number. Please remember that China's time zone is eight hours ahead of GMT.
Email Click to email Mark