Vietnam's unrelenting belief in the power of rhino horn is causing the animals to be mutilated and driven to extinction
Three shots from a high-calibre rifle ring out across the bushveld. It is about 2am in Kruger National Park, South Africa, and a team of rangers have been hot on the trail of suspected poachers for the past two hours. A helicopter is scrambled and lands a special forces unit in Houtbosch Section. Contact is soon made, and a firefight ensues.
Three poachers are apprehended, but one dies at the scene from his wounds. However, he is not the only one fatally wounded. Nearby, "a white rhino cow was crying pitifully, its horns had been hacked off crudely, it was still alive, its eyes had been gouged out and the spine had been hacked. It could not move but kept trying to lift its head," said Ken Maggs, chief operations officer of South African National Parks' anti-poaching initiative. He has seen many horrifying sights, but none quite as bad as this.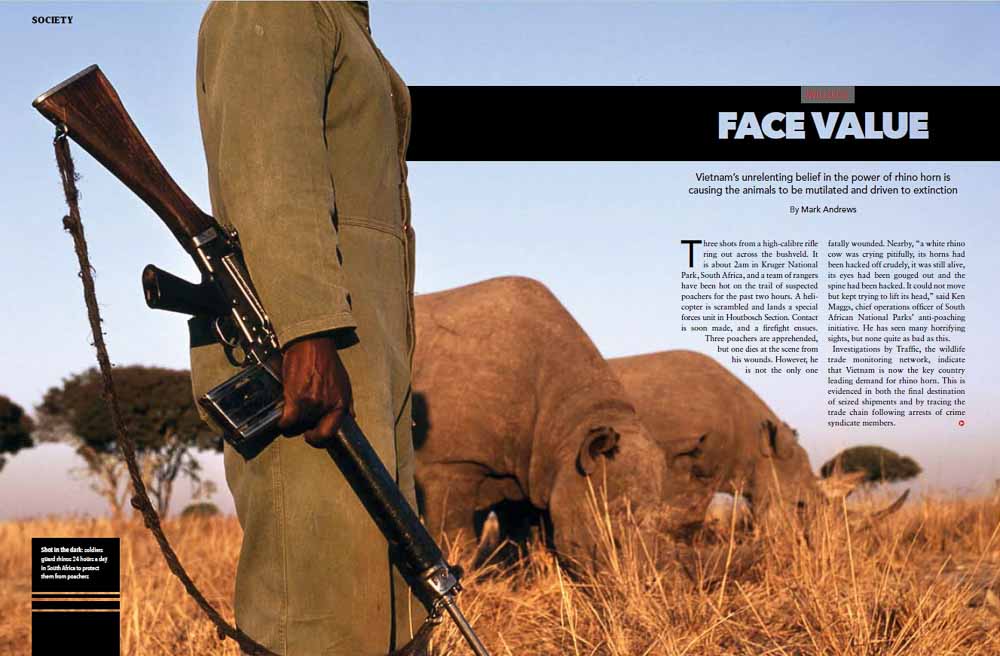 Mark Andrews has written about everything from Japanese houses to heli hikes on New Zealand glaciers, test drives of Chinese cars to bar and restaurant reviews. He currently specialises in travel articles and reviews of Chinese cars plus articles about the Chinese auto industry.
Let's Get Started
Get in touch with Mark
All articles and photographs displayed on this web site are available for purchase with rights varying according to what has previously been sold. For most published articled this means first serial rights for the country that the publication appears in.
If you wish to speak to me about anything on this website or to discuss commissioning any work I can be contacted by:
Mobile phone
0086 13564588224
This is a Chinese mobile number. Please remember that China's time zone is eight hours ahead of GMT.
Email Click to email Mark