Food for Thought. Interview with Werner Schuppisser CEO of food distributor Sinodis.
SINODIS is a leading distributor in China of many leading Swiss food brands, and was one of the most successful foreign-owned start-ups in the country. In 2011 it was sold by its founder to French company Savencia (previously Bongrain). The Bridge talks to its current CEO, Swiss national Werner Schuppisser, about the success of the company and the food industry in China.
What is the history of SINODIS in China?
SINODIS was founded in 1996 and today we manage a portfolio of more than 60 world leading brands from 14 different countries. SINODIS supplies international and local retail chains, online stores, 4 and 5-star hotels, restaurants, bakery chains, and caterers with a comprehensive range of over 2,000 products from gourmet, dairy,pastry, grocery, and confectionary categories in over 130 Chinese cities.
I've had the pleasure of leading our outstanding team of over 700 SINODISers for more than three years now, having spent more than 17 years in the country.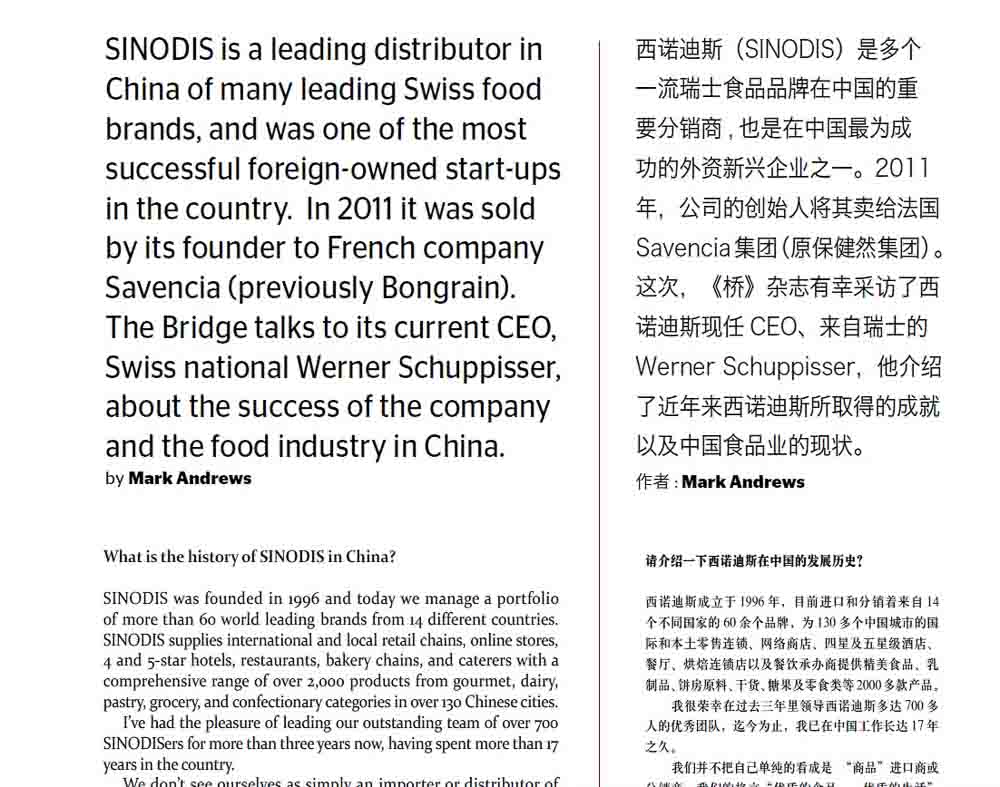 Mark Andrews has written about everything from Japanese houses to heli hikes on New Zealand glaciers, test drives of Chinese cars to bar and restaurant reviews. He currently specialises in travel articles and reviews of Chinese cars plus articles about the Chinese auto industry.
Let's Get Started
Get in touch with Mark
All articles and photographs displayed on this web site are available for purchase with rights varying according to what has previously been sold. For most published articled this means first serial rights for the country that the publication appears in.
If you wish to speak to me about anything on this website or to discuss commissioning any work I can be contacted by:
Mobile phone
0086 13564588224
This is a Chinese mobile number. Please remember that China's time zone is eight hours ahead of GMT.
Email Click to email Mark