City Weekend (Shanghai). 30/08/2007
Bar review of Cube in Shanghai's Xintiandi.
Rubik would be proud. After solving the puzzle of where it is (entrance opposite Kabb and up the elevator) you are greeted with exclusivity. So much so that at the moment there is no menu! Drinks are largely cocktails and being connected to Sugar, the speciality is dessert cocktails (Y80). An apple strudel does a good job of intoxicating Vienna. Other cocktails are martini based. Tiger lily (Y70) with its lychee taste is a summer hit. Whilst the décor is stylish the seats, high and sagging, are not very comfortable. The bar with its semi circular feel and window is quite small but there is a spacious wooden decked terrace. This is definitely one of the few places in Xintiandi to escape the crowds.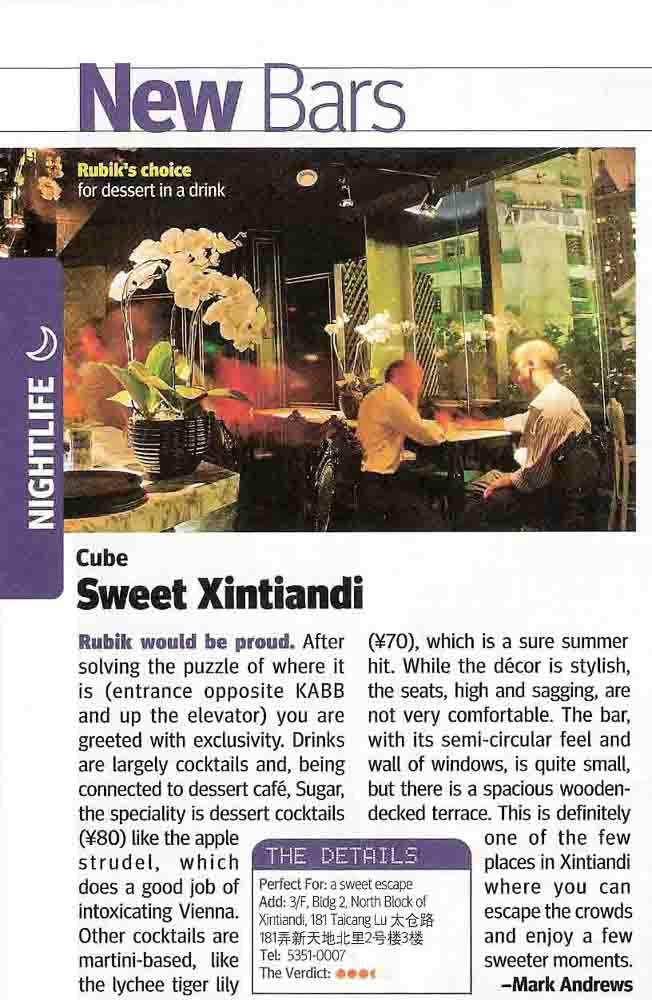 Mark Andrews has written about everything from Japanese houses to heli hikes on New Zealand glaciers, test drives of Chinese cars to bar and restaurant reviews. He currently specialises in travel articles and reviews of Chinese cars plus articles about the Chinese auto industry.
Let's Get Started
Get in touch with Mark
All articles and photographs displayed on this web site are available for purchase with rights varying according to what has previously been sold. For most published articled this means first serial rights for the country that the publication appears in.
If you wish to speak to me about anything on this website or to discuss commissioning any work I can be contacted by:
Mobile phone
0086 13564588224
This is a Chinese mobile number. Please remember that China's time zone is eight hours ahead of GMT.
Email Click to email Mark