City Weekend (Shanghai). 20/07/2006
Restaurant review of Pizza Marzano in Shanghai's Xintiandi.
Pizza Express, the British pizza chain (Pizza Marzano in some Continental countries), has hit the China market. The menu is near identical to the British one and prices only marginally cheaper. Most classic pizzas are there (Y70-95), plus some, such as Peking Duck, catering to local tastes. One welcome carry over is a non smoking seating area. The food was reasonable but unexceptional. Pizza Bufalita, a new style with mozzarella, raw tomatoes and basil applied after the base is cooked, was lacking in taste. The Diavolo was better but overcooked and not overly generous with toppings. Service from the young, smart wait staff is very friendly and attentive. Inside it has a clean modern feel centered around an open kitchen. Its location, including a small outside seating area, is going to make it a hit with tourists. For the rest of us, the food is not worth the effort.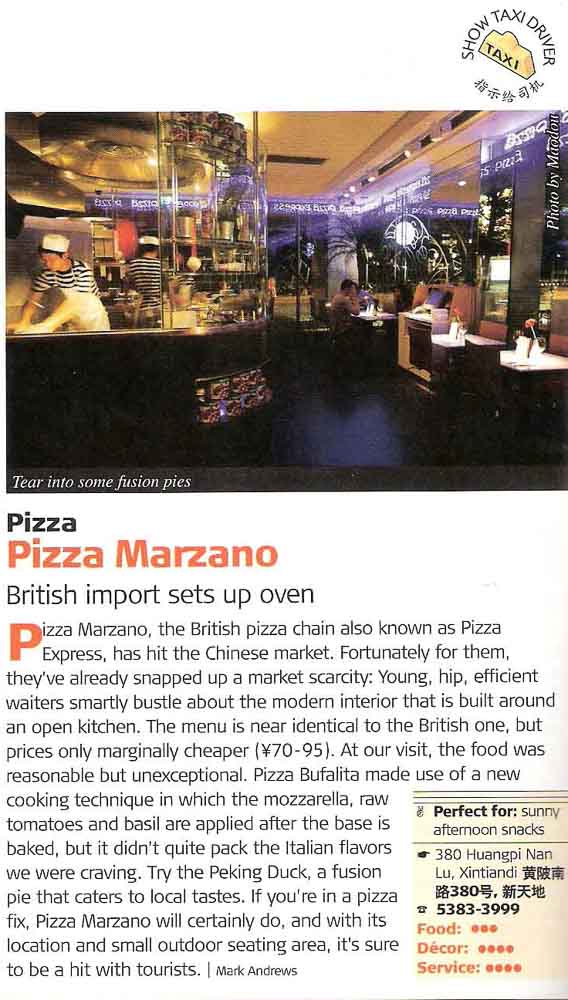 Mark Andrews has written about everything from Japanese houses to heli hikes on New Zealand glaciers, test drives of Chinese cars to bar and restaurant reviews. He currently specialises in travel articles and reviews of Chinese cars plus articles about the Chinese auto industry.
Let's Get Started
Get in touch with Mark
All articles and photographs displayed on this web site are available for purchase with rights varying according to what has previously been sold. For most published articled this means first serial rights for the country that the publication appears in.
If you wish to speak to me about anything on this website or to discuss commissioning any work I can be contacted by:
Mobile phone
0086 13564588224
This is a Chinese mobile number. Please remember that China's time zone is eight hours ahead of GMT.
Email Click to email Mark