City Weekend (Shanghai). 15/02/2007
Bar review of Maneo a now closed wine bar and restaurant in Shanghai.
With Mint bobbing away on top, Maneo aims to build a solid keel at ground level in the ship like Ladislaus Hudec designed 1930s art deco style villa. Billing itself as "the art of casual dining" it is certainly artistic with its white walls and white faux leather chairs and sofas. Casual it is not. The place has a slight air of formality with an oversupply of staff ready to pounce. The wine list is impressive spanning both old and new world producers. Bottles of white range from Y210-Y1,150; reds Y240-1,450. Prices for China seem reasonable with a bottle of Jacobs Creek Sauvignon Blanc going for Y210. If you don't like wine or champagne the choice is limited to a handful of cocktails based on Grey Goose vodka. Whilst we didn't dine an innovative European based menu (mains Y172-178) looked inviting. This is certainly a place to be seen but the question at the moment is by whom?
Unfortuantely I cannot find a digital version of this article.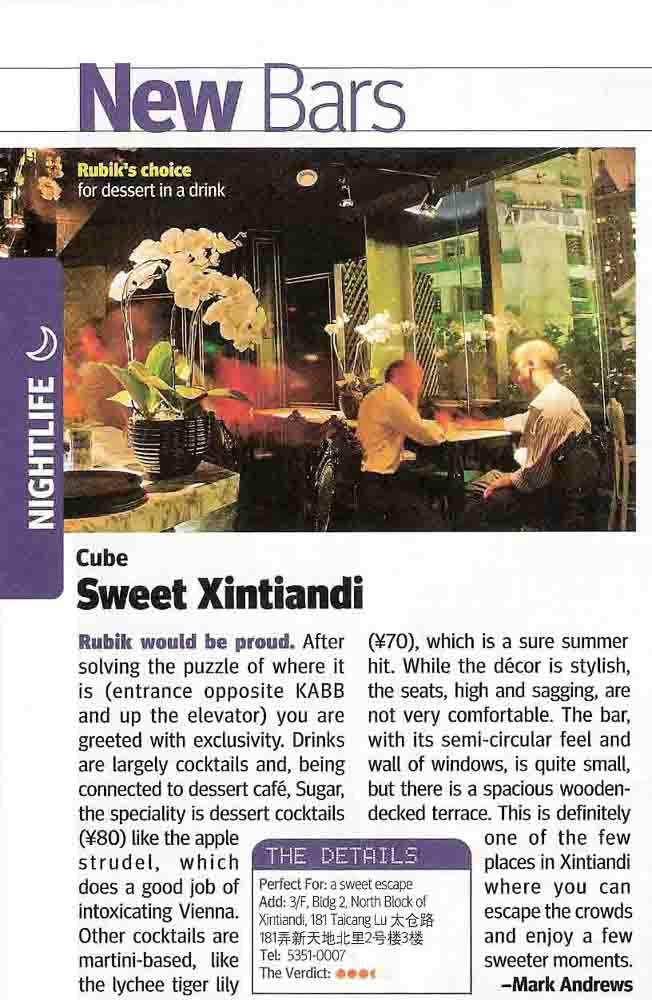 Mark Andrews has written about everything from Japanese houses to heli hikes on New Zealand glaciers, test drives of Chinese cars to bar and restaurant reviews. He currently specialises in travel articles and reviews of Chinese cars plus articles about the Chinese auto industry.
Let's Get Started
Get in touch with Mark
All articles and photographs displayed on this web site are available for purchase with rights varying according to what has previously been sold. For most published articled this means first serial rights for the country that the publication appears in.
If you wish to speak to me about anything on this website or to discuss commissioning any work I can be contacted by:
Mobile phone
0086 13564588224
This is a Chinese mobile number. Please remember that China's time zone is eight hours ahead of GMT.
Email Click to email Mark